Microsoft to push IE8 into Automatic Update

On April 10th Microsoft Program Management announced Internet Explorer 8 distribution in Automatic Update of Windows. The update will be optional on the opt-in basis with the options to Ask Me Later, Install and Don't Install.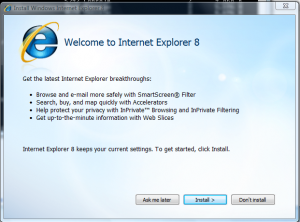 Considering the work Internet Explorer has undergone it's a very good move particularly from a developer's perspective. IE8 passes Acid2 and complies with CSS 2.1 standard of W3C.
In a hope that most users will go for the ride, it should get IE6, the show-stopper browser for many, off the browser market.
Tweet