e-tickets in function at Tallinn Airport
While the new terminal at TLL is still in the construction, it functions well and is already loaded with travellers. In conjunction with these developments Estonian Air's e-tickets were launched in May and prove to be working. So in addition to open WiFi network, available throughout the terminal, you can also use the computers for free.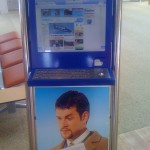 Terminal computers run on a specific software providing a selection of tourist information with standard surfing capabilities. You can read your Google Mail, browse your feeds at Digg or do anything else on the net. The gear is provided by ML Arvutid, ISO-certified Estonian computer manufacturer since 1992 (certified as of 1998).
It looks like the user experience regarding the mouse trackball has been poor so they seem to be replacing these with touchscreen models as few already have that functionality.
Computers are equipped with ID-card readers (notice the slot above the ripped sticker) and work with eID.

New terminal at Tallinn Airport
Related:
- Estonian Air to introduce e-tickets

Tweet