CReP - Create your own company in 12 minutes
CReP – a project by Centre of Registers and Information Systems (RIK) of Estonia – appears amongst the finalists of European eGovernment Awards.
CReP's goal is to handle all the communication with Commercial Register without any paperwork. All that's needed is Estonian eID card and internet connection.
Before CReP launched entrepreneurs had to notarise the signature even for the smallest changes in the records at Commercial Register, e.g. address. It cost money and took time due to the lack of notaries. Now it's a matter of minutes. You can even register a company without leaving home.
This is surely one of the best Estonian IT innovations of 2007 and the spot at European eGovernment Awards well earned.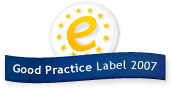 More:
- Estonia announces public procurement for additional ID-card development
Tweet