100% CLEAN award for obfuscatr 1
obfuscatr 1, the obfuscation tool introduced few days ago, has been awarded by Softpedia.
DISCLAIMER: Apple discontinued Dashboard in macOS Catalina. obfuscatr widget can not be installed on newer macOS versions.1
Since the initial release of obfuscatr 1 nearly 1000 copies of the widget have been downloaded in 4 days. It is now available on the majority of Mac software sites including Apple Downloads, Versiontracker, MacUpdate, and Softpedia.
In addition to the increasing interest Softpedia has granted obfuscatr with the "100% CLEAN" award: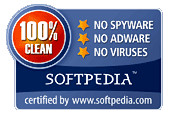 obfuscatr is a free email address obfuscation Dashboard widget for Mac OS X. Users on other platforms can obfuscate emails online.
The upcoming version of obfuscatr will introduce obfuscation preferences.
Tweet