Flash SEO package released for backbone CMS
Flashbit piloted with Flash SEO package for its backbone Flash content management system in July 2008 for the project of Boutique Caprice, a jewellery boutique in downtown Tallinn, Estonia. Up to date it has proven effective as illustrated by Google indexing and rapidly increasing PageRank.
Boutique Caprice website is based on backbone3 content management system that does content population, banners, images and is now search engine optimised. For SEO bb3 uses the deconcept's approach involving SWFObject's JavaScript methods to overwrite HTML content and bb3 direct linking technology that allows to bring users directly to the right category of the Flash site. In respect to the pointed category, the HTML content is output underneath the Flash content.
For Boutique Caprice the categories of the site are following:
News
Contact
Location
Brands
All of the above categories are using Flash remoting to load the content. So the job for the bb3 SEO package is to get all the content listed on search engines.
BoutiqueCaprice.com PageRank jumped up 1 level to PR2 in a short period of time and is expected to increase much further as more content becomes available. BalticWatch.ee, also running on bb3 framework without the SEO package, is at PR5.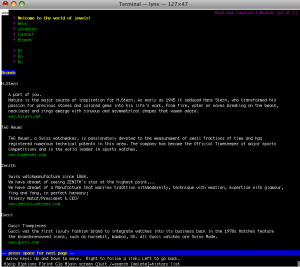 Lynx view of a Flash site with backbone3 SEO package similarly to what Googlebot sees.
Tweet